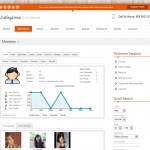 WP Dating.com is pleased to announce the release of version 4.6.3. This new version has had a complete overhaul of all the user side files. We have replaced all the tables with div tags making the whole dating software even faster when loading into the browser.
Along with replacing the div tags, we have also tweeked a few features. One of which is that we have changed the search results view structure. This new structure is streamlined for the best user experience. We've also changed the profile view as well. Now everything lines up and looks better.  We've also made some new changes in the Admin area that we're sure you're going to like.
Not only is it faster but this new version of the dating software will now work with just about any theme out there. In the past, some WordPress themes didn't like the tables, so, since the tables are now gone, we can say that most themes will work. While we still will provide the 80 Premium WordPress Themes, we're also going to be adding some other Premium Themes from other sites like WooThemes, InkThemes, MySiteMyWay and a bunch of others. So, be sure to check the Premium Themes page for all the themes we're adding.
There is also a new version of the Userplane Live Video Instant Messenger. Their new version is now integrated into the WordPress Dating Plugin.