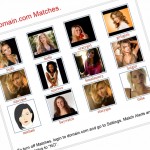 One of the new features that we've put into version 4.6 of the Dating Software is a feature called Dating Match Alerts. A new feature along with other new features that give your dating site members more options when it comes to online dating.
The new Dating Match Alerts is a setting in the user area. When the user turns on this feature, the user themselves can activate the feature (Turned Off by default). Once they activate the Dating Match Alerts, they set the frequency at which they will receive new matches sent to the email that they registered with. The user can have these new matches sent daily, weekly or monthly. Also included in the filter is the gender and the age. Once set, the user will receive email alerts when new dating site profiles have been added to the dating site.
The Dating Match Alerts also has a email template in the admin area and by default the template is already created in an html style format that shows the users in their inbox. They can simply click on the user's profile to see that new match on the dating site.
We hope you like the Dating Match Alerts feature that is is version 4.6 of the WordPress Dating Plugin. That as well as a ton of other new features are in the dating software.