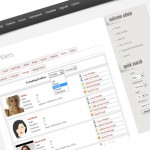 Dating Site Profile Trending is a brand new feature for Dating Software ver 4.5, that we created. It works by allowing dating site members to see those profiles that are getting the most attention. When you go to "Trending" you will see a drop down that is filtered by gender. You can then filter the Trending Profiles by Winks, Friends, Email and Favorited or All of them.
Dating Site Profile Trending is just another way your members will be able to not only find what they are looking for but see who's getting the most attention.
Dating Software version 4.5 contains this brand new feature along with other cool features. If you're thinking about dating software, think about the features because at the end of the day, it's not about the profiles you have, it's about how you present those profiles. Anyone can display a profile but it's how you get to that profile that matters.