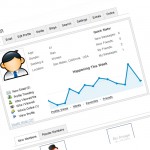 While we just released version 4.5 of the Dating Software and now we are at work on the next update. It's not going to be a full feature release like version 4.5 was but we still want to get some of your feature requests in there. So, be sure to get those requests into the forums.
Some of the things we're going to do in version 4.5.1 is we're going to remove the members media folders out of the plugin folder so that updating the plugin in the future will be effortless. We were going to add that into version 4.5 but most of you wanted the features and that's what we did so this new format will go into version 4.5.1.
One other thing that we're doing in version 4.5.1 is we're not going to be using 123FlashChat anymore. We've decided to go with UserPlane for Live Video Instant Messenger. It's a better solution and the company is located in Los Angeles so it makes dealing with them a whole lot easier. If you want to see the IM in action, just header over to UserPlane.com and check it out. When this feature is added, there will be a On/Off switch for it in the Admin Area. Most of you have probably already seen the tick switch in the admin.
One thing to keep in mind with the IM from UserPlane is that you'll need to go to UserPlane.com and setup your account. Now when it comes to that solution, there is a free version and a paid version. The free version is that you can't go over 50GB of bandwidth and includes ads that they supply on the bottom of the IM window. You can pay to remove those ads if you want but free is always good.
This update is now complete and can be demo'd on the site here.