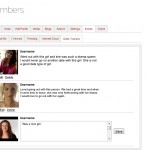 We're still working on version 4.6 but I wanted to give you a sneak peek at what was coming in version 4.6 of the dating software. One of the things we're working on is Date Tracker. This is a nice little tool in the user section that allows users to view a profile and track any dates that they might have with that user. It's almost like a little diary for each user that a member goes out with. It's a great way to keep track of people and the time that they spend with them. The best part is that if you don't want this feature, you can turn it off via the admin area.
One other thing that we're putting into version 4.6 is couples profiles. We've taken the Couples aspect a few steps further in that now you can do more than just select Couples on your edit profile. You can now have two different profiles. One for you and one for your partner. Works the same way as edit profile in that your member that selects Couples can fill out a profile for himself and his partner. Approving the Couples profiles is easy as approving your existing profiles. We've added a new tab for the profile user and his partner so approving Couples profiles is very easy in the dating software.
Those are just a few of the things that we've put into version 4.6 of the Dating Software. We've listened to our customers and we've added just about everything that they've suggested and that is what makes our dating software different.