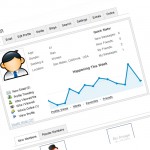 Dating Software version 4.5.1 is now here and available for demo via our Dating Software Demo page. The new version of the WordPress Dating Plugin now includes Userplane.com Live Video Instant Messenger.
Other features included in the new dating software version 4.5.1 are a new AJAX chat module for the sidebar as well as a new analytics graph that shows what is happening this week for your users profile. This data includes Profile Views, Winks, Favorites and Friends.
We've also included a pretty cool feature called the Profile Generator. The Profile Generator will help you create profiles based on your input. Create as many profiles as you want. Now you don't need to worry about being scammed while trying to buy dating profiles off the internet. Create your own profile base now with the all new Profile Generator. Now included in version 4.5.1 of the dating software.
Now that we've released version 4.5.1 of the WordPress Dating Software, we're now hard at work putting together the next major release that will be version 4.6. This new version will contain tons of new features as well as some surprises so remember, all updates are free.