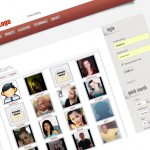 WP Dating.com is pleased to announce the launch of the WordPress Dating Plugin version 4.6. Full of even more features that ever before. New features include Date Tracker, Multi-Language support, Enhanced Reports, Profile View Limit, Guest Profile View Limit, Register Redirect, Authorize.net and a whole lot more. If you want to see it in action simply check out the Dating Demo.
Other features include Couples Profiles, Private Photos, Private Audio and Private Videos. Another feature we added was Matching Emails. Your members can set the frequency at which they can receive the matches in their email. They can come daily, weekly or monthly. It's up to your users. They can even turn it off.
We've also revamped the admin area, added more tools like the new Language Admin for adding other languages as well as changed the whole Reporting features. Now you can see what is really going on with your dating site. Don't want to use certain features like Blog, Photos, Galleries, Audio and Video, then you can turn them off individually. We also changed the whole Upgrade page. You can now have images for your custom memberships. There's so much that we just don't have room here to list them. Simply check out the demo and see for yourself.
We took a long time with this version and we went over it and over it making sure that it was the best version to date and we're quite sure you'll love it. This release doesn't mean we're done. We've already started taking feature requests for the next version so if you want to see something added to the dating software, please let us know.