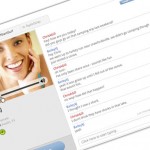 With the release of version 4.5.1, the Dating Software now comes with Userplane.com Live Video Chat. This is a one on one Instant Messenger that allows two people with webcams to see and talk to each other. This is now part of the WordPress Dating Software version 4.5.1 and available for demo in the Dating Software Demo.
Setup is extremely easy and only requires you to go to Userplane.com and set up your account. Once you setup your account, you'll need to copy your Site ID and API Key to the Admin area of the dating software. Then all you need to do is set up how you want your users to use it.
Userplane Live Video Chat is The Best video chat for Dating Software solution on the Internet.
Got questions about the new Live Video Chat that's in the WordPress Dating Plugin? Feel free to contact us.