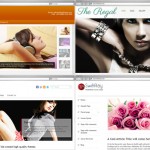 WP Dating is pleased to announce the addition of 30 Premium WordPress Themes to the Premium Themes lineup. This brings a total of Premium Themes to 112. Not only do we offer you 112 Premium WordPress Themes with the WordPress Dating Software, but the new version of the WordPress Dating Plugin will work with just about any WordPress Theme out there and trust me when I say there are a lot. Last count of the free WordPress Themes at wordpress.org was over 1740 themes. No other dating software provider can offer you so many themes. At best, most have like 15. We give you 112 Premium Themes and because our dating software is for WordPress, you get access to thousands more out on the Internet.
Each of these Premium WordPress Themes have over 8 styles included in them giving you endless possibilities. How is it possible that one theme can give you so many colors/styles? Because it's WordPress. Also, each of the themes give you control of what goes on the front page. If you want all your members to show up on the first page then you can do that. If you want your own home page with featured slider, then you can do that. It's WordPress, so you can do anything. Try getting that with other providers. You can't…
We hope you like the new themes that have been added to the dating software and do let us know if you have any questions.