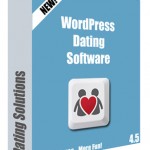 You're searching for a WordPress Dating Plugin to start a dating site right? Then you've come to the right place. We are Dating Solutions and we specialize in Dating Software for WordPress. You won't find any other dating software on the Internet that offers what we offer and that makes our WordPress Dating Plugin the most unique, ever-evolving dating software on the net. Don't take our word for it though, simply go through the Dating Demo and you'll see for yourself that no one else comes close to offering what we offer and the best part is that it's all included in one price. There are no other modules to pay extra for. It's all included and it's priced exceptionally well.
What features are in our WordPress Dating Plugin? If you take all the other dating software providers and you add all their features together, that and more is what you'll get in the WordPress Dating Plugin. It's all in there. Things like Live Video Instant Messenger, Mobile Dating Software, Chat, Custom Profiles, Trending Profiles, Profile Generator, and more. The list goes on and on. No other dating software provider offers what we offer and that makes us unique.
Not only is our WordPress Dating Plugin feature-rich, but it's also ever-evolving. This means that we're always working on making it better, faster, and with more features. Other dating software providers out there just have a simple version and they don't put much more into it. That's not us and it's not what we do. We're always taking recommendations from our customers about what to put into the dating software. If you want something in it, simply let us know.
We hope that you like the WordPress Dating Plugin and do let us know if you have any questions or comments.