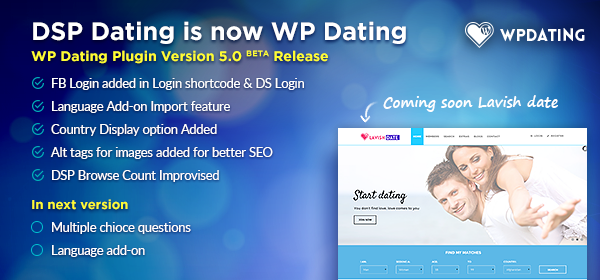 Great News – We have released the WP Dating Plugin 5.0 BETA today. Now you may think why it should be great news but here are just a few of those reasons for that
You know that we have been in regular touch with you and we have listened and responded to your suggestions in this version as well.
The improvements that you suggested are implemented in this version as far as useful to our general users… We still have some improvements in our pockets for the next release.
Our update includes fixes, code improvements and feature additions that will help to keep your dating site up-to-date in the online dating industry
The complete change log for this WP Dating Version 5.0 BETA
Added
Option to display first name & last name in the registration form and in profile too
Facebook login button in DSP Login plugin and login page short code
Profile tab added while viewing other member's profile
Premium Membership can be created for zero cost also
Compatible version of Divi theme included in the bundle
Alt Tags included for the images
License key check
Improvements and Fixes
Notification messages are improved
Success message is displayed after admin settings changes
Button for back to profiles
Advanced search option code improved
Using coupon code with value more or equal to membership cost will not redirect to PayPal
PayPal IPN code improved
Friend Request Feature made better
Successful message after adding comment and rating the profile
Success Message color and format
About Us and Meet Me text box improved
Replaced transient with file system cache
Members page shortcode does not require "/members" in URL
Message delete behaviour
Message can be sent to members who are not in friend list or Favorites
Free mode "Off" and email "Enabled" for male
Filter on Online Members code improved
50000 profiles .sql file improved
User friendliness increased by storing options selected while creating profile
Navigation for User Profile info in the backend
Email text retention when error notification comes up
Interest cloud is not showing properly
Guest limit profile can be set to zero also.
Admin can now turn on/off trending feature
Email message from other members can be viewed again after viewing it once.
Subject of the email message is now shown
Online member Widget count fixed
PHP code Improvements
jQuery Codes Improvements
If you have feature suggestions or issues that we have missed to solve in this version, please send us a message regarding that and the URL of your site so that we can correctly identify your problem and solve it.