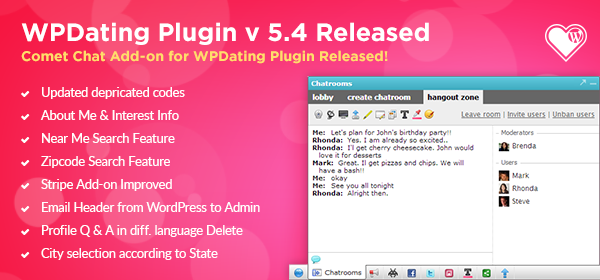 Greetings from WPDating,
Welcome to the world of WordPress Dating Sites. If you are already using WPDating Plugin, you will be glad to know that we have released the WPDating Plugin v5.4 TODAY! Additionally, we have also released the Comet Chat Add-On for WPDating Plugin with this release.
To update to the latest version, please follow the instructions given at updates page.
If you haven't started your dating site yet, you may be missing out to take your bite in this multi-million dollar dating industry. Why not give it a shot today?
The changes in the dating plugin that you will find are as follows:
About Me & Interest Info Improved in member's profile view
Near Me and Zipcode Search Feature Improved for more accuracy
Stripe Payment Gateway Add-on Improved
Auto-Login and Registration Password Add-On Updated
Email Header Changed from WordPress to Admin
Profile question and answer language easy to delete
City selection adjusted according to State Selection
Deprecated Codes of PHP and js updated
Comet Chat Add-On for WPDating Plugin Released!
Why did we release Comet Chat Add-On for WPDating Plugin?
The reason behind this is, comet chat offers a more affordable solution for text and video chat option and we want our dating site owners to run dating business effectively while reducing expenses and maximizing profits.
So what are you waiting for? Grab this comet chat service from Comet Chat and comet chat add-on from our add-ons page.