We have just released version 4.7.2 of the WordPress Dating Plugin. We've made a couple changes to enhance the speed of the dating plugin as well as added a brand new front page template design.
A new Dating Theme Template shortcode has now been added to the WordPress Dating Plugin. Now you can simply add a shortcode to any page you want and that shortcode will display the new design on that page like you see in the WordPress Dating Demo. This new dating template was designed for the Dzonia theme. The Dzonia theme is a premium theme that is included in the WordPress Dating Plugin. It's also the theme that you see on the demo.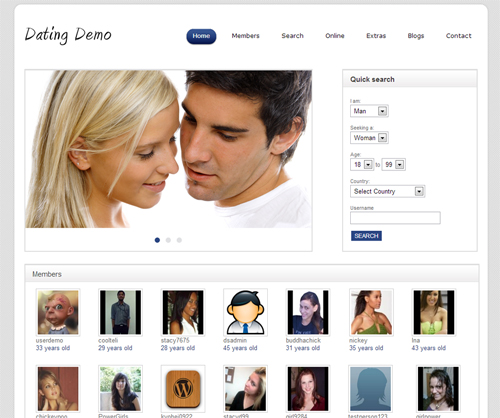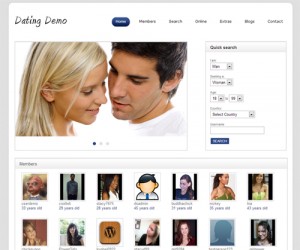 If you want to use this shortcode for the Dzonia theme, just create a page called Home and copy the shortcode to the page. You don't need to call it "Home", you can call it anything you want. We use Home because it makes more sense since it's the main page of your site. You'll need to tell WordPress that you want that as your main page so go to WP Admin, Settings, Reading and change your Front Page Display to your static page "Home" and your blogs to "Blogs" or whatever page you called your blogs. Then go into WP Admin, Appearance, Theme Options and turn Front Page "Off". That will put your new page at the front of your site like you see in the demo. That's it.
The new dating template will work on any theme provided you can make the page a full-width page. Most themes allow you to do this so it should work without any issues.
We have also made changes in how the chat and online widgets work. The refreshes that show new text on the chat pages will now only refresh in the actual widget. We found that having the refresh specifically in the widget cut down on the processor utilization. This in turn will speed up your WordPress Dating site.
Other changes include modifications to the notification system. This is the notification system that alerts you when Friends/Favorites have logged in as well as the One on One Chat notification. Now you can set the Refresh Rate yourself via the new setting in DSP Admin, Settings, Refresh Rate.
These changes along with the new home page template design are now part of version 4.7.2 of the WordPress Dating Plugin. Existing customers can get the update from the Updates page here at WP Dating.com.