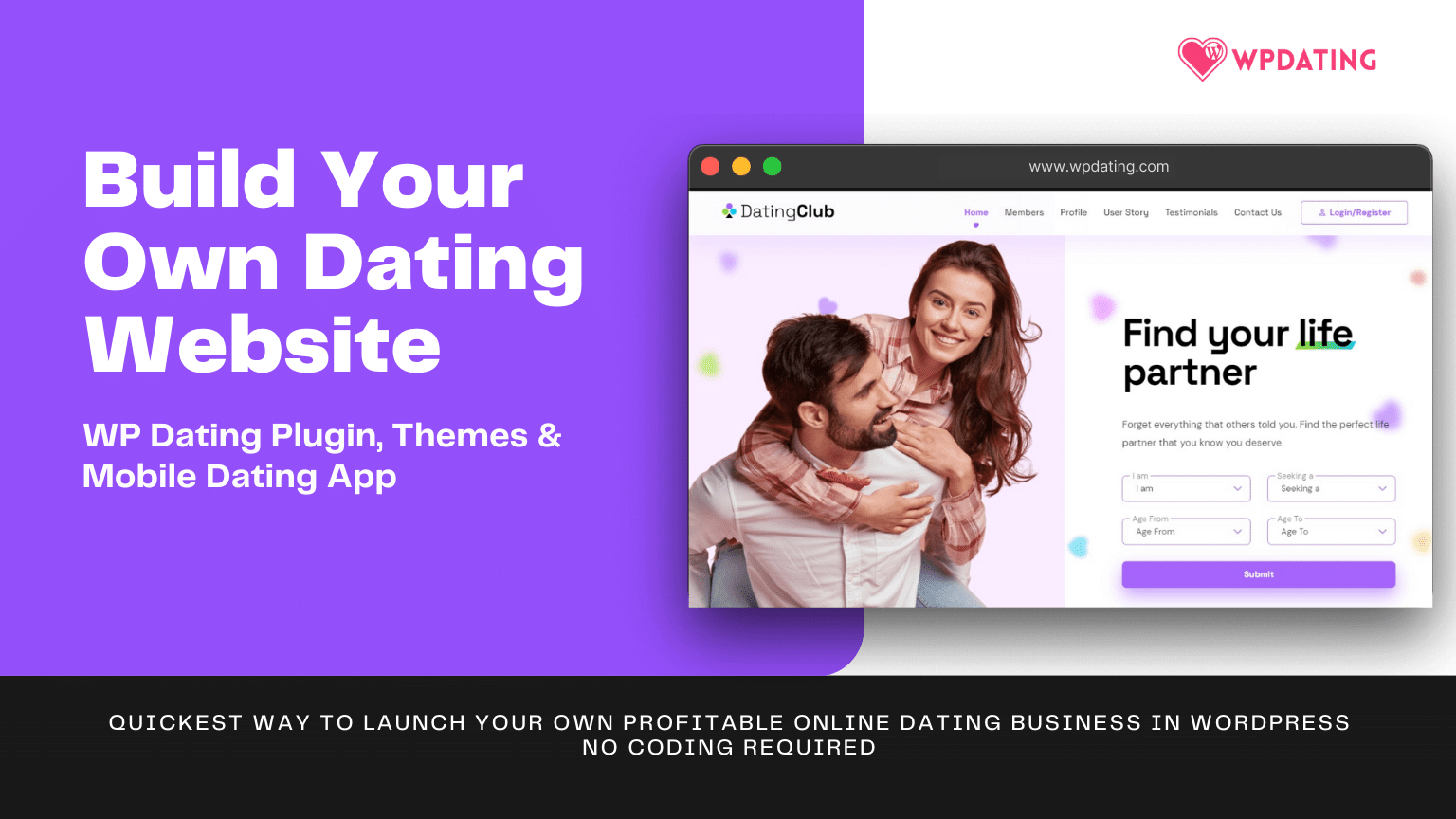 Are you considering starting your own online dating business?
With the growing popularity of online dating, there has never been a better time to launch your dating website.
WP Dating is making it easier than ever before to start your dating site.
Why own a dating website?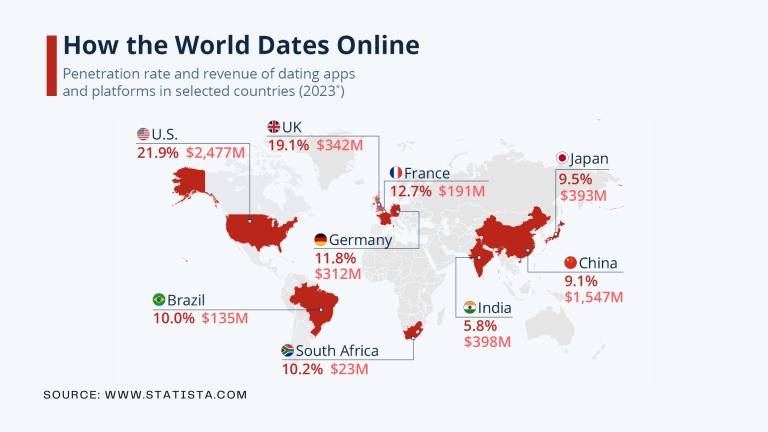 The online dating industry is booming, with revenues projected to reach $3.41 billion by 2027. The demand for online dating services will only grow as the world becomes more connected through technology. Creating your dating website allows you to tap into this growing market and potentially reap high profits.
One of the main advantages of owning a dating website is the potential for a lucrative business. You can attract many users with a well-designed website and effective marketing strategies. And generate revenue through subscriptions, advertisements, and other monetization methods. The cost of running a dating website is relatively low, making it an accessible option for entrepreneurs looking to start a new business.
Another benefit of owning a dating website is connecting with people. In today's digital world, people spend more time online, making it easier to communicate with others. Providing a safe and user-friendly platform for singles to find love can positively impact people's lives and help them form meaningful relationships.
WP Dating is an all-in-one dating software solution providing everything you need to start your online dating business. Its user-friendly interface allows users to quickly and easily create profiles, search for potential partners, and connect. The platform also includes advanced search algorithms that enable users to find matches based on specific criteria, such as location, interests, and preferences.
WP Dating plugin is a comprehensive solution for creating a dating website or adding dating features to an existing site. It offers many features that make creating a professional dating platform easy.
One of the critical features of the plugin is the ability to locate nearby potential partners using geotargeting. This feature makes it easy for users to find people in their local area looking for a date. The plugin also includes the ability to accept meeting invitations, chat in real time, and share media files, making it easy for users to connect with potential partners.
The plugin also includes several features to ensure the privacy and security of users. With the member blocking feature, users can block unwanted members from viewing their profiles or interacting with them in any way. The privacy options allow users to set their profiles to be viewed by everyone or friends only, and the couple's profiles feature enables users to create a shared profile for themselves and their partner. Additionally, the plugin includes search customization and membership upgrade options, making it easy for users to find their ideal match and access premium features.
The WP Dating plugin is highly customizable, allowing site owners to tailor the dating site to their needs. The plugin is open source, so developers can modify and enhance the code as needed. This opens up possibilities for site owners who want to create a unique and innovative dating site.
Additionally, the plugin is built on WordPress, the world's most widely used content management system. This means site owners can access many themes, plugins, and widgets to customize their dating site further. With the ability to add or remove features, change the design, and enhance the site's functionality, the WP Dating plugin provides site owners the flexibility they need to create a successful dating site.
WP Dating Theme is a WordPress-based dating theme designed for people who want to create a dating or social networking website. This theme offers several features and customization options that enable users to create a unique and attractive dating website without needing any coding skills.
Dating provides seven different themes that cater to specific niches of the dating market. For instance, the WP Matrimony Theme caters to the Indian dating scene, while the Nikaah Theme focuses on the Muslim matrimony market. Similarly, the Secret Lover Theme has a bold and edgy design ideal for websites catering to adult dating.
One of the key benefits of WP Dating Themes is that all the themes are fully integrated with the WP Dating Plugin. This seamless integration allows users to quickly run all the plugin's features with an intuitive and attractive design. This WP Dating Theme and Plugin combination provides users a comprehensive solution for building a successful dating website.
Another great feature of the WP Dating Theme is that all the themes are Elementor-based. This means that users can take advantage of all the features of the Elementor page builder to create highly customized and visually stunning pages. With Elementor, users can easily drag and drop elements onto their pages and customize them to their liking without any coding skills.
In addition to its dating plugin and theme, WP Dating also provides a mobile dating app for iOS and Android.
The customizable dating app allows you to create a unique user experience that reflects your brand and appeals to your target audience. With the mobile app, your users can access your dating platform from anywhere, anytime, making it even more convenient for them to find love.
The app also includes advanced features, such as push notifications and geolocation, to enhance the user experience and improve engagement. With WP Dating, you can have a complete dating solution that includes a website and a mobile app, giving you a competitive advantage in the online dating industry.
WP Dating regularly updates its features and security patches to ensure that your dating website is always up-to-date and running smoothly. And if you encounter any questions or issues, WP Dating provides excellent customer support with experienced professionals available to assist you.
Launching your dating website with WP Dating offers a high potential for profit and the opportunity to impact people's lives positively. Whether you want to start a side hustle or a full-time business, WP Dating provides the tools you need to succeed.
Get Started with WP Dating