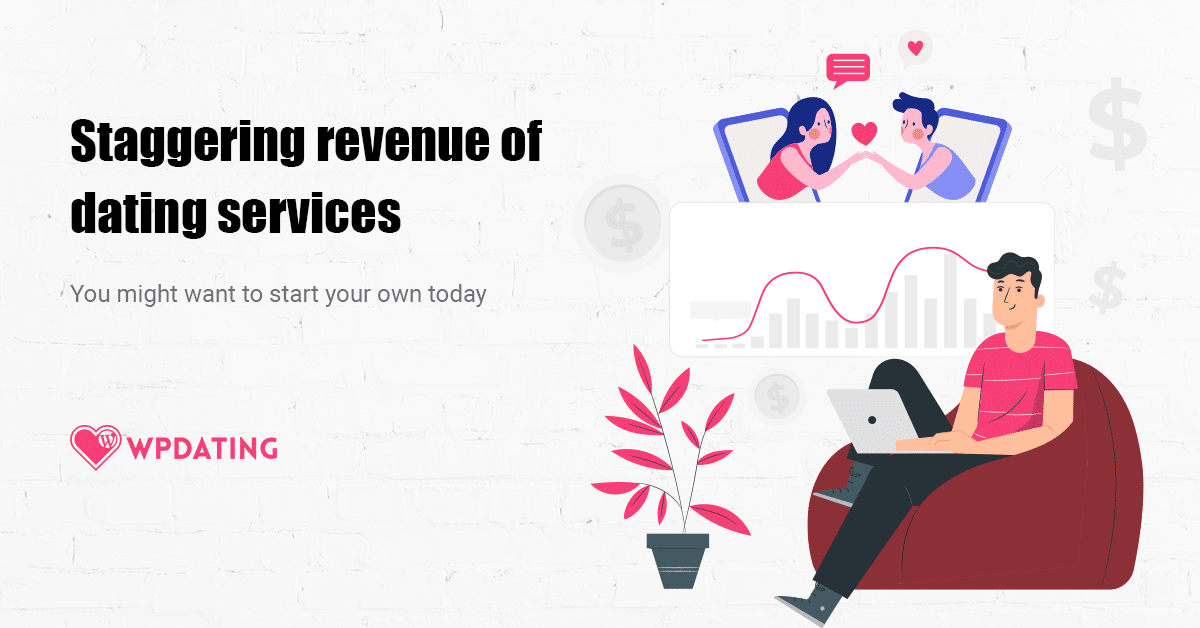 The dating industry has been continuously growing for many years and it is highly unlikely that the growth is going to stop anytime soon. 
It is estimated that by the end of this decade around half of the couples will have been met online. 
According to the report published by Allied Market Research, Global Online Dating Services Market is Expected to Reach $9,202.7 Million by 2025.
One of the biggest dating services in the industry is Match Group. Besides Match.com, the group has diversified its dating scope through different dating websites.
Match group owns and operates following dating sites:
Match.com

Tinder

Hinge

OkCupid

PlentyOfFish
Tinder, Hinge and OkCupid were acquired later by Match Group to focus on the audience with different needs and preferences.
In this post, we are going to take a look at the estimated revenue of top dating services:
1. Match.com
Match.com proclaims itself as the number one dating site that has matched more dates, relationships, and marriages than any other dating sites. 
In the last quarter of 2019, there were over 9.8 million active users. [According to Statista]
As per Zoominfo.com the projected annual revenue of Match.com is $1 billion.
2. Tinder
In popular media, Tinder is associated with casual relationships. Match.com and Tinder are the biggest revenue earners among the dating services owned by Match group.
Tinder reported to have gained 7.86 million mobile users in U.S. in September 2019.
According to theverge.com, Tinder made $1.2 billion in 2019.
3. Eharmony
Eharmony, an online dating website launched in 2000, is the first algorithm-based dating site. 
New users have to complete a quiz based on their personalities and interests, which is used to find their right matches.
The estimated annual revenue is $162.5 million. [Owler]
4. Tantan
Tantan originated and is most popular in China. Tantan is a lot similar to Tinder. 
Popular among youth born after 1995, Tantan's revenue is expected about US $50 million annually. [ As per the 2018 article by Seekingalpha]
5. Bumble
Bumble primarily focuses on women and healthy relationships. It is more strict compared to other websites. 
When members of the opposite sex match on Bumble, women should make the first move.
As per the 2019 article of Forbes, Bumble has over 55 million users around the world.
According to Owler, the Estimated Annual Revenue of Bumble was $187.5M in 2019.
6. Plenty of Fish
Plenty of Fish was acquired by Match Group for reportedly $575 million in 2015. 
The basic version is free for users, but to unlock some premium features, the membership plan has to be upgraded.
As per datingsite reviews, in 2015, revenue was $80 million, which we can easily assume that the revenue has only increased ever since.
7. Hinge
The marketing slogan of Hinge is "Designed to be deleted." implying that once users get the match on Hinge, they will not have to return to the app to find another partner.
According to bstrategyhub, Hinge generated $5.2 million in revenue in 2018.
After Match Group took over, Downloads of Hinge grew over 100% over a year (from 2018 to 2019) and revenue increased by approximately 400%. [Dating Site Reviews]
8. Grindr
Grindr is an online social dating service that is dedicated to gay, bi, queer, and trans people.
The basic version of Grindr is free for users but with advertisements. Users can then upgrade the Grindr to unlock premium features and make the app ad-free. 
Grindr has approximately 3.8 million daily active users worldwide. 
The estimated annual revenue of the Grindr is  $20 Million.
9. OkCupid
OkCupid was founded in 2004 and acquired by Match Group in 2011 for a reported amount of $50 million. It is renowned for its gender inclusivity. 
According to Datingsitereviews.com, the number of members since was 50 million till 2019.
Owler estimates that the annual revenue of OkCupid is approximately $30 million.
10. Happn
Happn is primarily popular in India. Like many dating apps, users can message only if both of the parties liked each other.
As per the statistics from Similarweb, 70.30% of the traffic came from the search meaning that there is a lot of possibility for a niche dating market.
In 2018, it claimed to have 6.5 million active monthly users.
The estimated annual revenue of Happn is around $1 million. [Owler]
The usage of dating sites has been ever-increasing.

That's why, even though Match Group had match.com and tinder app, it still acquired other dating services to reach niche audience with different preferences and priorities.
But still, there will always be the segment of the population, whose specific needs are unmet with these mainstream dating services.
Do you know such a target audience? 
Yes?
Then capitalize the opportunity with our dating plugin with powerful functionalities and personalized tinder clone dating app.