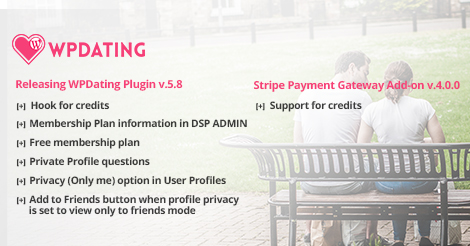 We are happy to announce the release of our primary products – WPDating Plugin v. 5.8 and Stripe Payment Gateway Add-on v. 4.0.0. With the suggestions and feedback from our customers who are in regular contact with us, we have made the following changes to the plugin: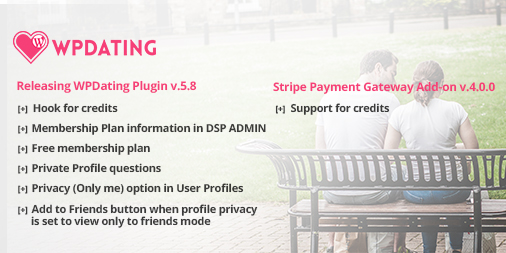 [!] Permission Issue resolved
[!] Footer width improved
[+] Hook for credits
[+] Membership Plan information in DSP ADMIN
[+] Free membership plan
[+] Profile questions private
[+] Privacy Only me option added for User Profiles
[+] Add to Friends button when profile privacy is set to view only to
friends mode
As we have improved the functionality in the Stripe Payment Gateway Add-on as well, here are the changes related to that:
We have now added features such as purchase of credits using the Stripe payment gateway. The credits can be used for sending emails and gifts to the users.
These changes will allow you to create different appeal for your dating site as well as experiment with the colors so as to increase the members registration on your site. If you have not purchased our plugin package yet you can buy them from here.
If you have any suggestions for us please feel free to send them to us. We will implement them as per the number of requests we receive for the feature suggestions.