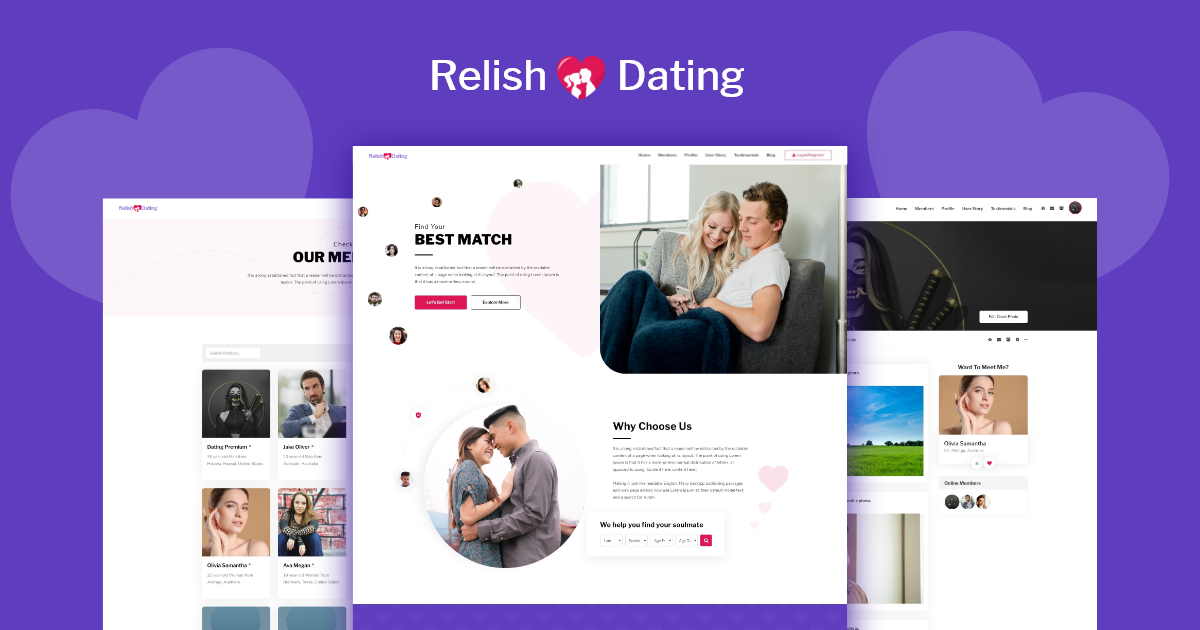 The wait is over! Our next-generation theme- vibrant, modern, fresh, and clean – Relish Dating theme is finally here.
We've put our customers at the core center for the planning and development of Relish Dating theme to make their experience with WP Dating plugin all the more amazing.
We've made sure there is tight integration of our dating plugin and Relish Dating theme to achieve the best experience for both dating admin and the users.
And the result is unprecedented.
From the get-go, you will be impressed with the Relish Dating theme.
Let's start with the biggest feature that we've built in the Relish Dating theme:
If you're a creative dating entrepreneur, you might want to change the layout or add some features on your page. Now you can customize the design, layout, and features of the page with our fluid drag and drop elements – all by yourself. You can see the changes along as you make changes on the same screen.
Want to move a section that's on the top of the page to the right sidebar? Easy peasy.. Grab that section and move to your preferred place, and it's done. It's so easy to make adjustments and customize your site.
Customizable Pages with Elementor builder
Elementor builder is the master of all website builders in WordPress. WordPress users universally praise Elementor website builder for its ease of use, appealing backend, and its customizability power.
Our Relish Dating theme is compatible with Elementor builder and you can work the magic of Elementor in your dating website with our theme.
Sleek and user-friendly design
Our intuitive design means any new user that is exploring your website for the first time will immediately experience a familiar feeling. Your users will only see the minimal buttons and options but if they need, each setting and option will only be a click away.
Needless to include this feature on this list, but let's do it. We cannot even imagine running any dating website without being mobile responsive. That's why we've paid special attention to the Relish Dating theme in this aspect – it is tailored to seamlessly fit every screen size.
It's time to clear the elephant in the room – what would be the price of this brand-new theme?
You're not going to believe this but we swear it's true. We're giving you the Relish Dating theme at the same minimal price of $49. Along with the premade demo template in theme, you will also be getting Elementor Dating addon.
Want to check out first? Check out our Relish Dating theme demo.
Already convinced? Go and buy our theme now.
If you have any questions, feel free to reach out to our Support Team.
We can't wait to hear your feedback and see how you use our theme to create your stunning dating website.