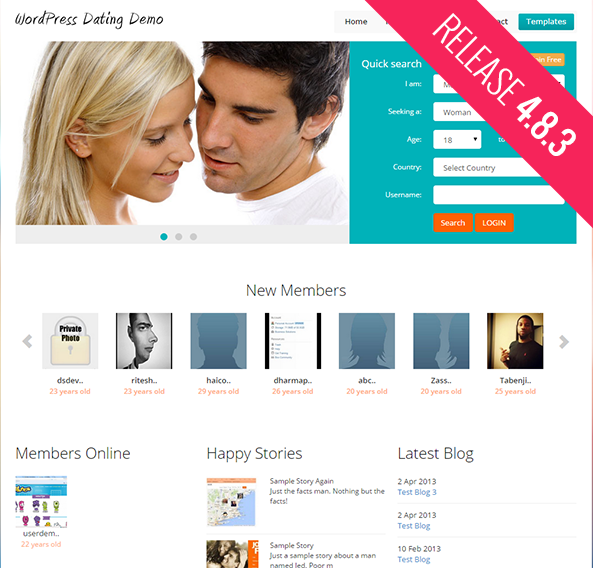 For the past two months, our team has been working non-stop to complete the biggest release since we acquired WP Dating.com in July. Every module has been reviewed and improved. Under this post, you can find the complete changelog, which contains more than 50 updates.
Of course, this version of the Dating Plugin is fully compatible with WordPress 4.0.
We appreciate all the feedback and suggestions we received in the last months to improve the dating plugin. One of the most frequently asked questions was the call for a responsive dating theme.
We took this suggestion as one of the key features and have been giving all the 7 dating templates a complete makeover including full responsiveness. All these templates are per default shipped with the 4.8.3 upgrade. All the themes can be previewed on www.wpdating.com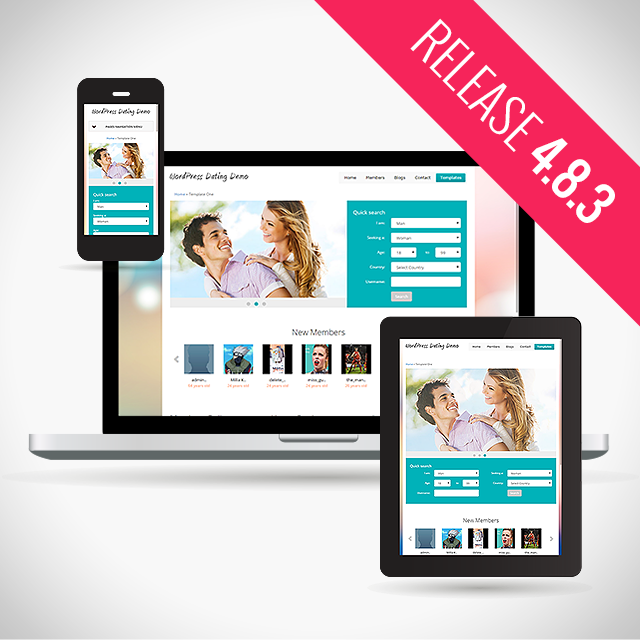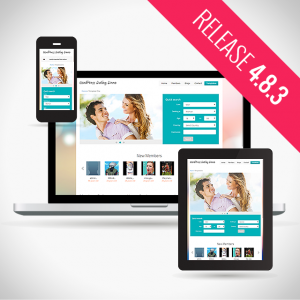 In case you have questions about how to upgrade from your current version our support team will be glad to help you out. And in case you would like us to perform the upgrade have a look at the 'upgrade offer' in the 'add-on' menu.
More to come
The feature list for release 4.8.4 is nearly finalized so expect more to come in the next few months.
Of course, we're always open to feedback and suggestions. We'd love to hear from you!
with kind regards,
WP Dating support team
== Changelog ==
= 4.8.3 =
* Modified 7 home page templates
* Added a few language codes for hardcoded texts
* Added start year of the dropdown on the backend
* Added indexes in the tables for better performance
* Fixed search pagination
* Removed unwanted code from many places – WIP
* Fixed the problem of the album not getting deleted
* Removed get_pageid() function and replaced this function as it was conflicting with other themes
* Fixed the bug of private photo getting displayed in the match alert email
* Registration now pre-filled with values on the error
* Changed the new member section on member page showing latest 8 members
* Fixed the values like 4'8″ not getting accepted in height
* Fixed the date format of a paid membership on the membership page
* Fixed the online table of users so it will not have duplicate user-id values
* Changed – Near me functions now take the IP of the current login area
* Removed all the short tag of PHP and replaced with <?PHP tag
* Removed all the mail() function of PHP with wp_email() function
* Fixed Blocked member won't be able to view profile
* Fixed the problem of the double profile being shown
* Fixed deprecated code of the theme and plugin
* Removed Matchninja from the marketing tab as that feature is not supported by matchninja.com anymore
* Fixed profiles questions in the backend now work properly on multi-language
* Fixed member pages showing you're premium member although the date is over
* Fixed Force profile now won't let
* Changed New member on member page now showing latest 14 members instead of registered within last 14 days
* Fixed the problem of stealth mode in chat
* Added the support of new API of 123 web messenger from 123flashchat.com
* Fixed the link of a member on the report profile email to admin
* Added support for Japanese and Chinese language
* Fixed JavaScript error on the chat page
* Fixed the ordering of city and state in the dropdown of newly added cities and states
* Fixed the bug of the language switch