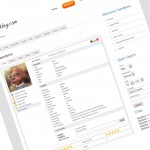 WP Dating.com is pleased to announce the release of version 4.6.4 of the WordPress Dating Plugin. This new release of the dating software includes a few new features as well as some tweeks.
One of the new features you'll see is the new chat page. We've now included a page specifically for chat. We've also added some smilies to it as well. With the new chat page comes a premium feature so you can charge your members to use it if you want.
Another new feature we've added is Status Update. Now on the users home page you'll find a Status Update that lets the user post their status to their profile. This will now show up on the profile view page. If you have your site set to manual approve, then when your users add a Status Update, it will go to admin for approval. Otherwise it posts immediately to their profile.
Yet another feature we added was Comments. Now users can comment on other users profiles. This was a highly recommended feature that we put into the dating software. Like the Status Update, if you have it set for manual approval then all comments go to admin for approval. Then, once approved by admin, the user that received the comment can approve it and all comments will show up at the bottom of the users profile.
We've also added UK Zip Codes to the dating software. Now the dating software includes US and UK Zip Codes. We'll be adding Australia and Canada Zip Codes this week. So, we've got your Zip Codes covered.
These above features plus a few others as well as some tweeks and enhancements make up the new version 4.6.4 of the WordPress Dating Plugin. We hope you like it.
Button Text