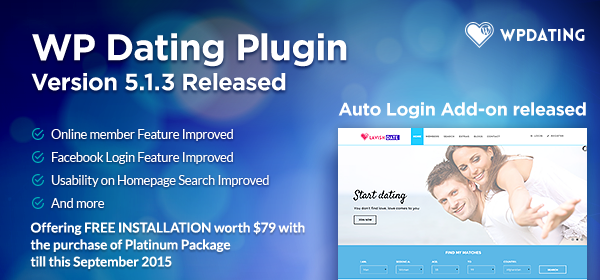 Greetings from WPDating Team,
We are proud to announce that the version 5.1.4 is now released of WordPress Dating Plugin. In this version, we have made certain changes which will be noticed mostly by our customers of Complete Package, Platinum Package and iPhone & Android Mobile Dating Apps.
This version includes the improvements regarding the connectivity related to the plugin and the mobile dating app and the data synchronization, some visual aspects and such  between mobile apps and plugin installed in the website.
Here is the changelog for this version:
Member Profile view in app improved
Trending Profiles Improved in app
Email to Admin Fixed for app
Members Age Issue Fixed for app
PHP & CSS code improvement
We request our customers to download and update the plugin from our updates page to keep it to the latest version. However, please note that if you have customized the plugin yourself, with the help of a developer or by taking help from our technical support team, you will be responsible to carry forward the customized features/designs as they will be removed when you update the plugin.
If you have suggestions or comments, please feel free to send a Hello!