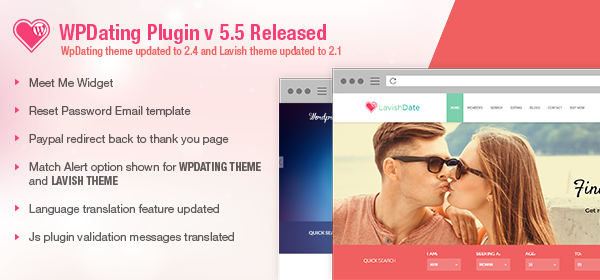 Your long wait for new updates of LAVISH DATE THEME V2.1, WPDATING THEME V2.4 and WPDATING PLUGIN V 5.5 has just come to an end!
We have made sure that this update come with multiple added features. You will witness multiple improvements along with the aforementioned addition of new and useful features. Thus, it is sure to make your task much pleasant and easier than before!
To list, the features included are:
Match Alert Improved for WPDATING THEME and LAVISH DATE THEME

Match Alert efficient

PHP version compatibility check added

Reset Password Email template

Credits update after purchase

Paypal redirects back to thank you page after purchase

Meet Me css improved

Edit profile and edit partner profile css improved in ipad View

Removed deprecated function get_currentuserinfo() for WordPress Version 4.5

Translation issues in backend – In Matches, In Memberships -> Features

Remove hardcoded language of prev next navigation button

Meet Me Widget
So, if you have already purchased this theme, feel free to request the download link by entering your PayPal email used to purchase it on this page: www.wpdating.com/support/updates.
If you want to check these themes and plugins, here is the demo site:
If you want to purchase these themes, just click the link:
http://www.wpdating.com/lavish-date-theme/
http://www.wpdating.com/wp-dating-theme/