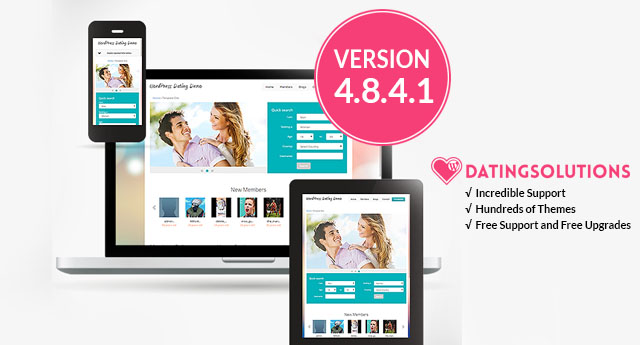 Greetings from Dating Solutions,
We are announcing the release of WordPress Dating Plugin Version 4.8.4.1 today. This is an immediate release due to a third party JavaScript issue which we have used in our plugin.
If you have faced unexpected JavaScript pop-up in your site in these recent days, this update will fix this issue.
Along with this fix, we have also made this version compatible with the upcoming WP Dating Theme and the WordPress Version 4.2. Another fix that we have applied is the page on Date Tracker. 
Though we were planning for some more feature additions and improvements in the plugin, we are announcing this version release this time.
Changes in this version:
Unexpected JavaScript  pop-up fix
Upcoming WP Dating Theme Spport
Compatible with WordPress 4.2
Date Tracker Page Fix
We will release the next update and in the Month of May with more attractive features and more improvements. We will also release the exclusive WP Dating Theme then.