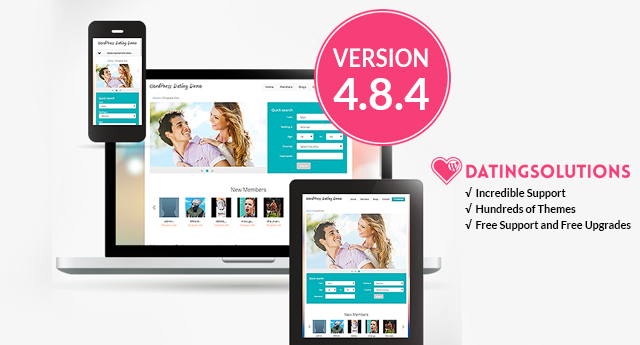 After the release of version 4.8.3.1 at 25th November 2014, we have continually worked to make our WordPress Dating Plugin better. As a result, we have added features that were found to be important for a dating website along with those that were requested by our clients and  today we are proud to announce the release of WordPress Dating Plugin Version 4.8.4
We have not missed to improve the plugin in the usability aspect as well as in the coding standards. In this version of WordPress Dating Plugin we have also worked to fix the errors that were found in the plugin.
Main feature additions are addition of Facebook login functionality, Geocoding for better search results, bank and cheque payment methods and the most demanded shortcodes for search, login, and register.
Here is the complete Change log for version 4.8.4
Features Added And Improvements
Admins can turn on and off trending feature
Admins can show or hide element of Home page
Show random online members
Member Stats added in backend
Add country filter in the Meet Me Feature
Allowed credit to purchase gifts. It can be x credit to send x virtual gifts
New version of recaptcha.
Geocoding WP Cron for Existing Users
Admins can turn of the private photo checkbox.
Option to add Privacy Settings
Links that navigate to a users profile
Short Codes for search, login and register
Facebook Login Functionality
Profile Question Options can be allowed or hidden from the Advanced Search
Email Notifications are better controlled
Admin can take users out of Blacklist
Email is sent to admin after registration.
Username search should be moved to basic search page
Comment feature is displayed on user comment section
Username search is moved to basic search page
Search within miles feature
Country , city and state should be allowed selected by default
Every table database supports UTF-8
All common photos are moved to a common folder inside of template folder
Site Admins can change profile photos from DSP Admin
Flag upload folder moved to uploads folder
Member's Gender can now be edited
In Edit Profile, members won't have to fill everything again if notification comes up
Meet Me search and Near Me Features
Chat request box alignment
Missing translations are added on the translation tool
Members' News Feed and Pagination
Force profile will force profile view too
Default language is set if new default language is deleted
Members without profile is now not displayed in DSP Browse widget
Interest cloud is showing properly
Fixed
Create folder automatically when plugin is installed
Matches email problem
Name now appears completely in email
Zipcode search bug
Members without Age in Search Result
Stealth Mode bug fixed
Used date-time settings from WordPress date-time setting
Custom premium membership feature control Fix
Plugin activation error
wp_mail() function is used
Allow the profile question and answer have ' and " there
Report profile email is sent with wrong link
Meet me is now not showing the private pictures
Guest limit profile setting bug.
Online members page fault
Link of Start a New Search
iDeal Payment Gateway bug
As always we are expecting your feedbacks and suggestions. We also extend our sincere gratitude for helping us to make our dating software better and we expect your support to release a better version of WordPress Dating Plugin 4.8.5 for which we have already started working.