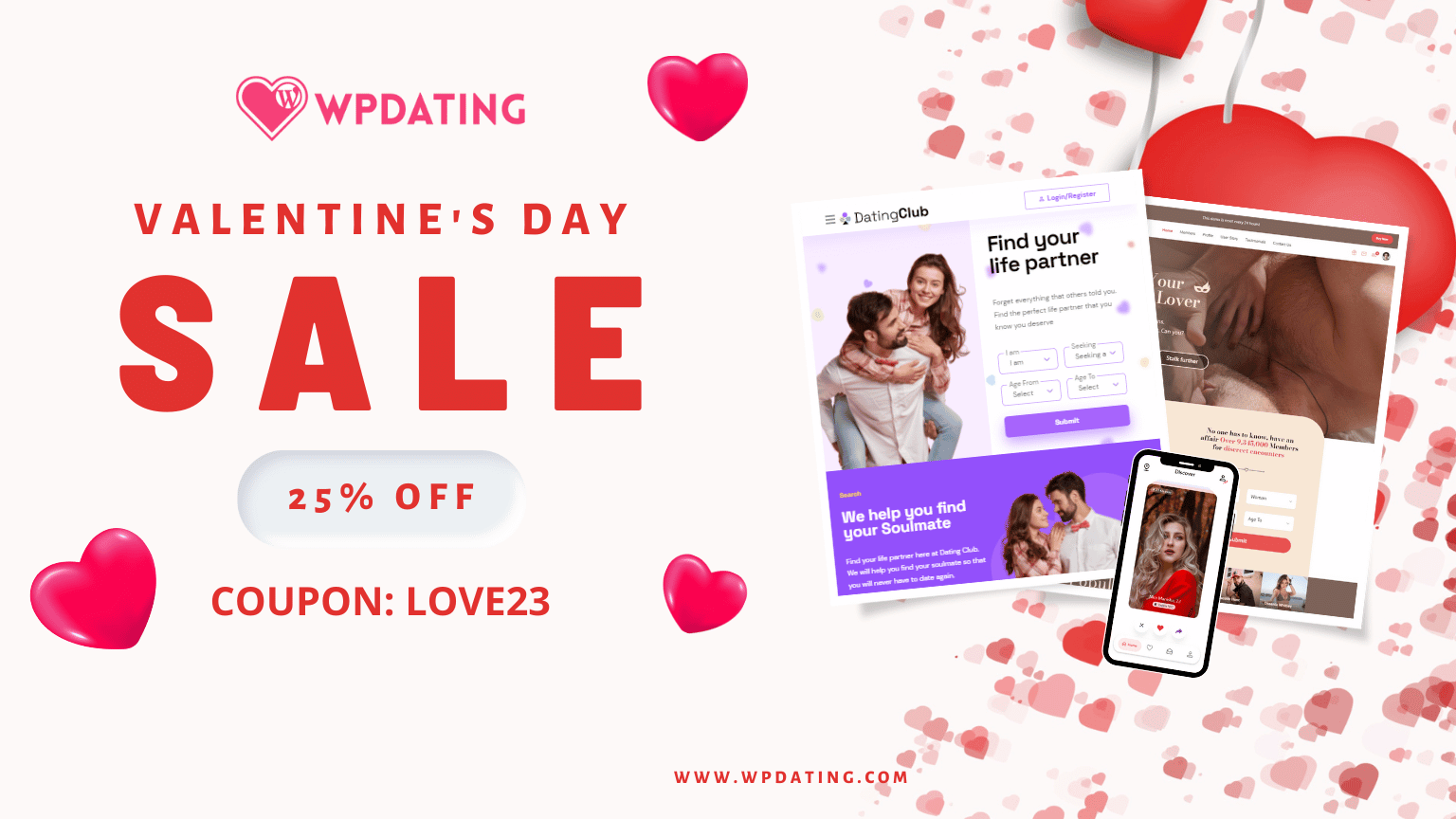 Valentine's Day is just around the corner, and there's no better time to take advantage of the season of love by launching your dating website.
WP Dating is making it easier for you to start your online dating business by offering a 25% discount on all the packages this Valentine's Day.
Valid Till: February 14
Coupon Code: LOVE23 (Limited codes available)
Get WP Dating
Online Dating Market
The online dating industry is lucrative, with revenues expected to reach $3.41 billion by 2027. The demand for online dating services will only grow as the world becomes increasingly connected through technology. By starting your dating website, you can tap into this growing market and enjoy the benefits of running a successful online business.
One of the main advantages of owning a dating website is the potential for high profits. With a well-designed website and a strong marketing strategy, you can attract many users, generating revenue through subscriptions, advertisements, and other monetization methods. Moreover, the cost of operating a dating website is relatively low, making it an accessible option for entrepreneurs looking to start a new business.
Another benefit of owning a dating website is that it provides a platform for bringing people together. With the rise of social media and digital technology, people spend more time online, making connecting easier. By creating a safe and user-friendly platform for singles to find love, you can positively impact people's lives and help them form meaningful relationships.
WP Dating
WP Dating is an all-in-one dating software solution providing everything you need to start your online dating business. It offers a user-friendly interface that makes it easy for users to navigate and find matches. Its intuitive design allows users to quickly and easily create profiles, search for potential partners, and connect with each other. The platform also includes advanced search algorithms that allow users to find matches based on specific criteria, such as location, interests, and preferences.
Another advantage of WP Dating is its customizable options, which allow you to create a unique look, feel, and functionality for your dating website. Whether you want a classic, romantic theme or a modern, cutting-edge design, WP Dating provides the services you need to create a custom website that reflects your brand and appeals to your target audience.
Additionally, the platform is regularly updated with new features and security patches to ensure that your dating website is always up-to-date and running smoothly.
WP Dating also provides excellent customer support, with experienced professionals available to assist you with any questions or issues you may encounter. Whether you need help setting up your site, customizing your platform, or optimizing your marketing strategy, WP Dating is always there to support you.
Take advantage of WP Dating's 25% discount this Valentine's Day and start your journey to becoming a successful online dating entrepreneur. Whether you're looking to start a side hustle or a full-time business, a dating website is a great investment opportunity that offers a high potential for profit and the chance to make a difference in people's lives.
So, what are you waiting for? Get started today!