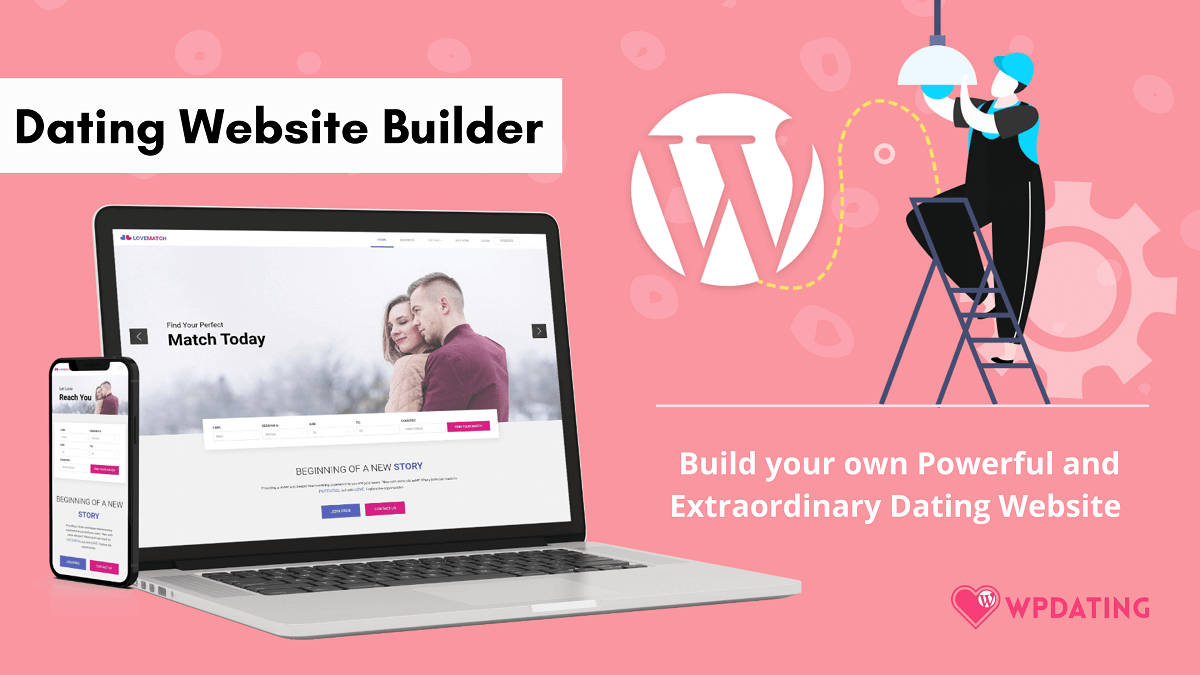 Gone are the days when you needed thousands of dollars to build a dating website. Dating websites need premium features and beautiful design in order to entice users to join the website. In past, the premium features and design needed to be built by developers from scratch which was costly and time-consuming.
But nowadays, dating website builder has made the dating website building process ever more easy and accessible to everyone. All the premium features, admin panel, design, and settings are already pre-built with dating website builder. You just buy it and get your own dating website. It's as simple as that.
Why Dating Website Builder?
High quality

Continuous updates

Premium features

Stable platform

Beautiful themes

Affordable
How to use Dating Website Builder
WP Dating plugin is a dating website builder that has powered tens of thousands of dating websites and those dating websites have successfully earned revenue for many consecutive years.
With a strong desire and vision, you can create your own successful dating website.
Along with dating websites, it can be used to build any kind of matchmaking website. Some of the examples of matchmaking websites made with WP Dating plugin:
Matrimonial websites

Find fitness trainer – Exercise enthusiasts

Find dog-walkers | Dog-trainers – Dog owners

Find tutors- Students

Find doctors – Patients

Find donors – NGO
1. Choose web hosting
Choosing reliable web hosting is the most prominent factor in your dating business success.
The speed and uptime of your dating website are hugely affected by the type of web hosting you choose. Besides, a good web hosting service provides fast support in case you run into any issue.
The best web hosting service providers for WordPress are:
2. Choose domain name
Selecting a catchy and marketable domain name goes a long way in aiding your dating business success. Many websites even purchase attractive domain names from others at a high price.
You can simply get a domain name from Web Hosting service providers. Most of them provide free domain for one year with the purchase of Web hosting service.
💡Do you have any domain name on your mind? You can check the availability of the domain name here.

3. Install WordPress
To use dating website builder, you need to install WordPress on your dating website. WordPress is easy to use and the most popular CMS in the websites' world.
Bluehost offers an easy way to install WordPress from its dashboard.
Like Bluehost, you can easily install WordPress from the Siteground's dashboard.
After installing WordPress, the next step is to get WP Dating.
4. Get WP Dating
WP Dating plugin is specifically made for matchmaking and it's perfect for dating websites made with WordPress. It is fast, SEO friendly, and does the job perfectly.
WP Dating plugin provides fully-fledged features and functions for dating websites that other dating website builders don't usually have.
All the features and functions are specifically designed for the purpose of matchmaking. So your user will come across near me, meet me, and advanced search for their convenience.
WP Dating provides you all the necessary platforms to build a dating website.
Premium features

Beautiful themes

User-friendly layout and settings

Granular admin panel
What you will get with WPDating:
User features:
Meet Me– Users can click on profile photos and answer 'Yes' or 'No' if they want to meet that user.
Near Me – With this feature, users can find the profiles of other members that are near to them inside a certain radius.
Virtual Gifts – Members can send Virtual Gifts to other members. Once a Virtual Gift has been sent, then the receiving member can approve it or reject it.
Date Tracker – Your users can keep track of the members they have been on a date with.
Status Update – Users can now add their Status Update to their profile. Once approved it will be displayed on their profile for others to see.
Admin features:
Permalinks – All pages of WPDating have SEO friendly URLs. This means that all areas of the matrimonial website can be indexed by Google as well as being easily found.
Geography Editor – With the Geography Editor, you can isolate your matrimonial website to a specific location by removing all the other Countries, States, or Cities.
Mass Emails – Send Mass Emails to all your members from the Admin Area via the Newsletter Plugin.
User Stories – Admin can post success stories of the members along with photos.
Reports for Profiles – Now you can get a complete breakdown of what types of profiles are being created on your dating site. The breakdown includes Male, Female, and Couple.
Force Profile Creation – Now when users register on your dating site, you can force them to create a profile before they can do anything on the site. This ensures that you get a good profile base.
Reports This Week – You can see what's happening with your matrimonial website with the Happening This Week feature in the Reporting Area.
Go fully test our demo before purchasing it.
If you can't wait to roll out your dating website, go & get WP Dating plugin right now.
Buy our WP Dating plugin, and install it on your dating website, and now you have built a dating website. Add your own logo, and branding and now you have your own dating website.
5. Install premium theme
Your dating website theme plays a key role in attracting members to join your site. That's why the dating website should be beautiful, interactive, and easily navigable.
WP Dating has developed different tailor-made premium themes to complement our WP Dating plugin after extensive research and testing behind the scenes.
Using our dating theme means you will have a very attractive, responsive site that will be different from your competitors.
You can freely choose from 6 premium themes offered by WP Dating.
You will get a premium theme for free when you buy any WP Dating plugin packages.
Upload our premium theme to your website and install it. Set up a few settings, widgets, and content on your theme, which you can easily do with the help of our documentation and video tutorial.
Building dating website process is now fully complete.
With only these 5 steps, you have built your own dating website. Dating website builder creates this easy way to build a dating website. Unbelievable!!
Installing WordPress, WP Dating plugin and theme are very easy. However, for some reason, you don't want to go through the hassle, you can use our installation service.
If you need extra customization to shape the dating website as per your vision, our customization service is at your service. You will get 80/160 hours of custom development with our dedicated developers who will design your website and develop features to your imagination.
Even though a complete dating website has been built with these steps, you might be wise to consider few more elements:
1. Mobile Apps
In this mobile-centric world, not having mobile apps means you are not going to be successful. WPDating has developed the latest Dating app for android and Progressive Web App (PWA) for both Android and iOS.
WP Dating Team has also developed the readymade tinder-clone app script – Dating App Script. Either you can get the source code and start building an app yourself or you can choose from the customization packages that suit you the best.
Popular features, a publish-ready app will help you to increase your customer dimension. Whatever you do, make sure you don't miss the Mobile Platform!
2. Add-ons
With our dating website builder, you can add special functionality to your website with our add-ons.
Allow one-on-one text chat option to your members like in the Comet chat and messenger by setting up this plugin with WPDating. It is the WPDating product that has no recurring charge. It is a one-time cost only.
Comet Chat Add-On for WPDating Plugin:
Allow video chat option to your members by setting up this plugin with WPDating Plugin. You will need to purchase the service from Comet Chat and this add-on. Take your dating site a step higher in terms of usability!
SMS Registration Verification Add-on:
Enhance the feature of WP Dating Plugin by offering your members to add the phone number at the time of registration to get a verification code for being successfully registered into the site.
Auto-Login & Reg. Password Add-on:
Enhance the feature of WP Dating Plugin by offering your members to choose their password during registration. Keep newly registered members logged in and redirect them directly to edit their profile. Make them engaged in your site from the very beginning!
Admin Message Reply Add-on:
Enhance the feature of the WP Dating Plugin by offering an admin to see and reply to the messages received by the users on the website. It is a socket-based chat feature.
Offer your users a chance to use your dating website in their native languages. WP Dating offers 28 language add-ons besides the default language – English.
Final few words…
Dating Website Builders have made dating business entrepreneurs' aspirations easy to achieve. With WP Dating, you can start a great dating venture plus the availability of lots of useful add-ons and premium themes will make your life easier.
Go start your dating business.
Frequently Asked Questions
Which package do I purchase if I want the WP Dating Theme and the Dating Plugin only?
If you want the plugin and WP Dating Theme only, you can purchase the Standard Value Add Pack or if you purchase the Platinum Multi-license Package, you will get the WP Dating Theme with the WordPress Dating Plugin Complete Package.
Do I have to purchase all of the themes even after I purchase WP Dating plugin?
WP Dating theme is included in the standard package which costs $149. With all the other packages – Platinum, multilicense, and VIP, you will get all of our dating themes for free.
Can I install the theme easily?
Yes, we have easy documentation and tutorial, with which you can simply install the theme just like our demo website. You can also use our installation service.
Can I use Sweetdate theme with WP Dating plugin?
WP Dating themes are tailor-made to complement WP Dating plugin which is not guaranteed with Sweet Date theme.
Can I use my themes from WPDating with other dating software?
WPDating premium themes are specifically designed for WP Dating Plugin. So, our dating themes might not perform best when used in other WordPress dating software.