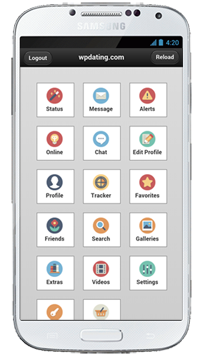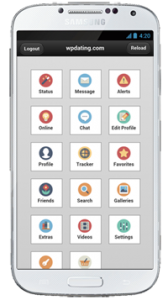 We have updated the Android Mobile Dating app today so if you've downloaded it prior than today then your Android OS should automatically update the app for you. If not simply delete it and install the latest. It usually takes Google about 3 hours to fully propagate the app throughout the Google Play Store once we submitted it.
You'll also need to update the WordPress Dating Plugin version 4.7.5 from the Updates page. Simply deactivate the dating plugin, delete it and install version 4.7.5 again. If you have made some file changes then contact us and we'll send you the changed files.
The changes that went into this version of the Android Mobile Dating App include brand new icons for the home page. We also added a new icon to the top right of the app called "Alerts". This shows all the alerts that you would get in the desktop version. Things like Winks received, Friend Requests, Virtual Gifts and Comments are now in the Alerts section of the mobile dating app.
You'll also notice that the desktop notifications that popup showing you that someone has emailed you or that a friend has logged in, are now in the Mobile Dating App. Really, we've put the whole desktop in the app!