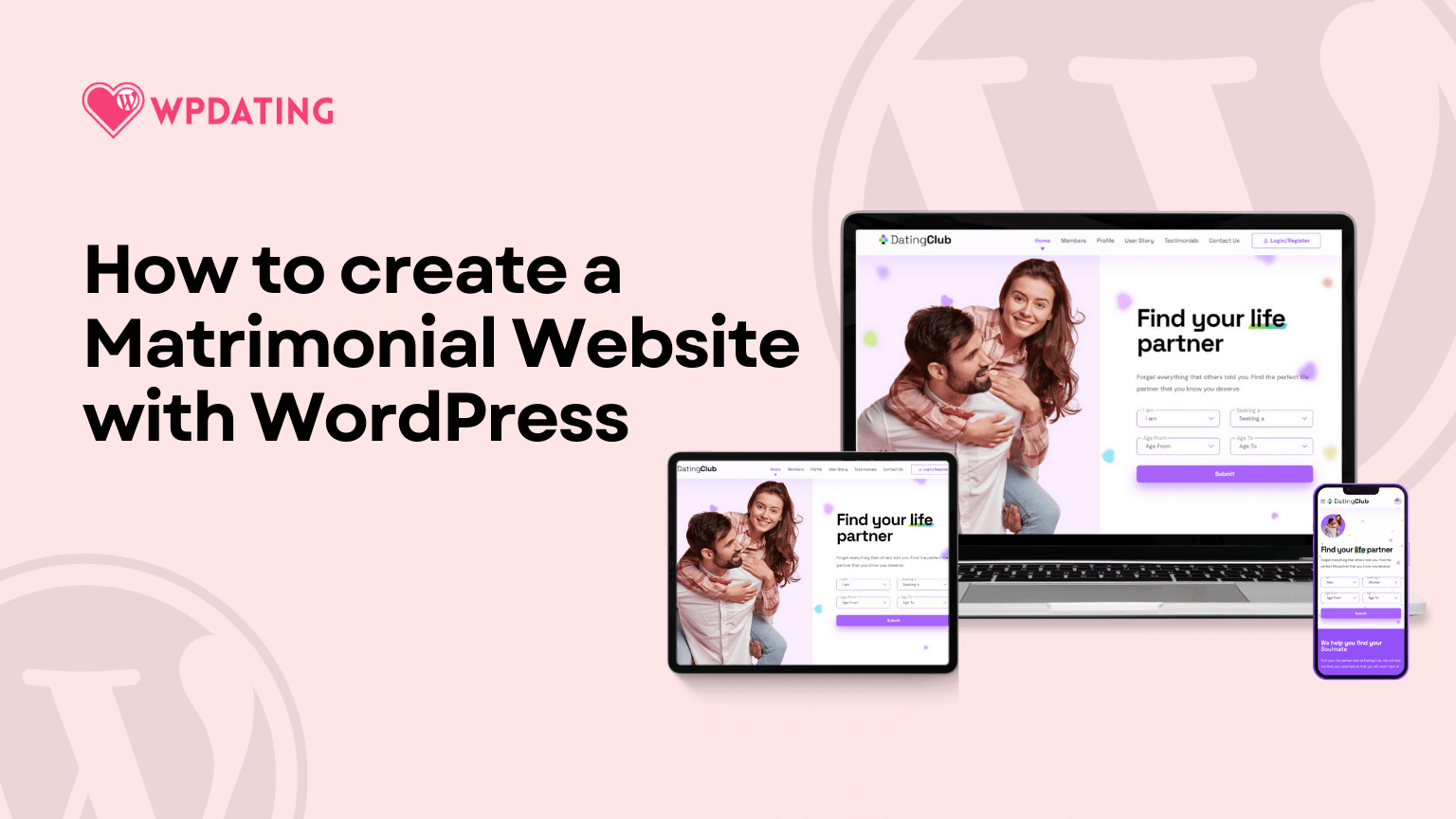 The process of finding a partner and marrying is painful and hectic. Especially South Asians and their diaspora know the pain of finding a partner. In a society where marriage is for a lifetime, it's a serious life decision. They have to consider their own needs as well as their parents'.
All of this matchmaking used to be done by a person through word-of-mouth. With this method, the scope would be limited. A single matchmaker limits the person he is in contact with, and he can match the person.
But with the advent of online matrimonial websites, the need for traditional matchmaking is no longer needed. With online matchmaking, the scope has suddenly extended worldwide. Even conservative people have warmed to the idea of marriage through online matchmaking.
That's why we've seen users and matrimonial websites rapidly increase in a few years.
If you are planning to create a matrimonial website, that's a very wise decision.
With its simple and affordable tools, you can create a dating website on WordPress in a few days. You can easily use all its features with tailored themes and plugins. Adding custom designs or unique features can also make yours stand out from other websites.
Quick Summary
How to create a matrimonial website with WordPress
Download WordPress.org
Purchase Hosting service
Get a unique Domain name
Get our Dating Plugin
Use a beautiful dating theme
Don't forget about the mobile platform
Time is money. The sooner you start your website, the better your chances to succeed. You don't need to have the fortune to create your matrimonial website. The WPDating plugin has a very affordable price and is rich in powerful features.
WPDating can help you set up your matrimonial website with a beautiful design and rich with powerful features within a short period.
The steps below will help you start your own dating business and find success in no time.
Download WordPress.org
WordPress is the most popular software that you can use to create your matrimonial website. WordPress boasts that it powers more than 43% of the web. WordPress includes thousands of plugins, themes, and widgets and is free to download and use.
A person with little to no programming knowledge can use WordPress very easily. If you need to do anything with your website, there are thousands of plugins that will easily do the job for you.
You can set up WordPress on your site or ask your domain/hosting provider to set it up. If you plan on using the paid theme on your site, the theme provider can be helpful in the installation process.
Purchase Hosting Service
The web hosting service stores your website's files on its servers. You need a hosting service to make your website accessible on the internet.
You must choose based on its affordability, reliability, support, and scalability. There are many web hosting service providers available that you can choose from. Based on our customers' reviews, Bluehost or Siteground works best for hosting the website with our WPDating plugin.
Get a Unique Domain name
In simple terms, the domain name is your website name. Your domain name has to be very catchy and marketable. Many websites even purchase attractive domain names from others at high prices.
Did you know that The domain name of Shaadi.com was purchased, too, because it was more marketable?
Do you have any domain names in your mind? You can check the availability of the domain name here.

Get our Dating Plugin
After securing a web hosting provider, registering your domain name, and installing WordPress, you can purchase and install the WPDating plugin.
A Dating plugin is simply a readymade script or software you can install on your WordPress-based site. The WPDating plugin has powerful functionalities and all the premium features you need to run a successful matrimonial website. You'll have a unique matrimonial website that is elegant and has all the powerful features you want in your matrimonial website.
You can use our product demo before buying it.
Use a Beautiful Dating Theme
Having powerful functionality alone is not enough to run a successful website; you also need an impressive and intuitive user interface.
Your dating website's design can greatly impact how successful it is. If it is designed well, users can easily find what they want. If it is designed poorly, it will be unappealing to users.
WPDating has developed different tailor-made premium themes to complement our WPDating plugin after extensive research and testing behind the scenes. Using our matrimony theme means you will have a very attractive, responsive site that will be different from your competitors.
Note: Dating themes only work with the WP Dating plugin.
Don't Forget About the Mobile App
According to the data from GSMA Intelligence, there are 5.16 billion unique mobile phone users worldwide. Neglecting mobile users is something you cannot miss.
Considering this huge opportunity, WPDating also offers a native android app and Progressive Web App (PWA)(Click here) for both iOS and Android devices. You can reach your audience directly on their phones.
A dedicated and stable mobile platform will bring a large number of potential consumers to your site. This will give both parties greater exposure and significantly boost your success rates.
Learn more about Progressive Web App here.
Things you need to consider to start a matrimonial website:
You should decide whether the membership is going to be free or paid. Maybe your members can join for free but have to upgrade the membership to unlock premium features.

Your website should also be accessible to mobile users. You cannot neglect the vast numbers of mobile users that are rapidly increasing.

The marketing aspect of your website is very important. You need to create brand awareness for your matrimonial website. You can adopt social media marketing.


The target audience should also be clear. Will you target the specific community, race, religion, or caste, or will it be general?

If possible, you can provide a personal touch and assist members with dedicated advisors.
What you will get with WPDating:
User features:
Meet Me– Users can accept or decline the "Meet Me" request from other users, and the accepted members will get an email about their interest and approach you for dating.
Near Me – With the Near Me feature, users can be sure that their Date is close digitally and physically. Let users match the perfect date from their nearby surroundings using Google Geotargeting.
Virtual Gifts – Members can send Virtual Gifts to other members. Once a Virtual Gift has been sent, the receiving member can approve or reject it.
Real-time Chat – WP Dating Text Chat Add-on lets your users chat in real time with other members. They can share emojis and photos, talk about their favourites, or chat about their day.
Status Update – Users can now add their Status Update to their profile. Once approved, it will be displayed on their profile for others to see.
Admin features:
Permalinks – All pages of WPDating have SEO-friendly URLs. This means that all areas of the matrimonial website can be indexed by Google and easily found.
Geography Editor – With the Geography Editor, you can isolate your matrimonial website to a specific location by removing all the other Countries, States, or Cities.
Mass Emails – Send Mass Emails to all your members from the Admin Area via the Newsletter Plugin.
User Stories – Admin can post success stories of the members along with photos.
Reports for Profiles – Now, you can get a complete breakdown of what types of profiles are being created on your dating site. The breakdown includes males, females, and Couples.
Force Profile Creation – Now when users register on your dating site, you can force them to create a profile before they can do anything on the site. This ensures that you get a good profile base.
Reports This Week – You can see what's happening with your matrimonial website with the Happening This Week feature in the Reporting Area.
You can check out the demo site to learn how these features work in real-action.
Online dating websites have become one of the most popular online businesses in recent years. And there's no wonder why! People are increasingly turning to the internet for help in finding love. With so many singles using technology to find dates, now is the perfect time to get into the online dating market.
Don't wait any longer; start your dating website today!
Start your matrimonial website
Feel free to contact our support team or chat with our Support Team.