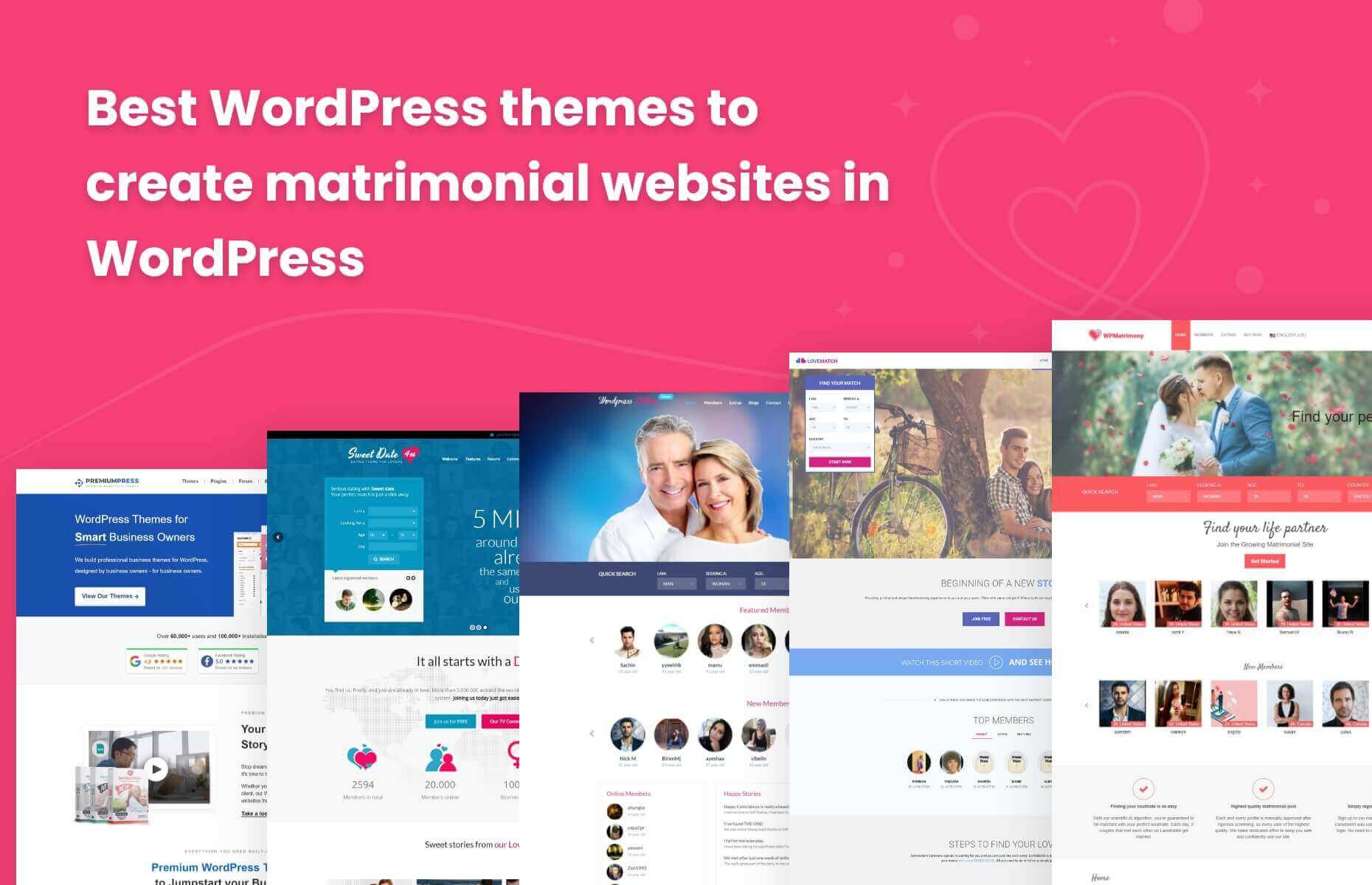 Before starting this informative blog:
Have you read our previous blogs related to matrimonial websites?
Nowadays everything is short-term, including dating and being in a relationship. Some enjoy the fast lane of dating, but some prefer to choose the cosiness and stability of marriage. The latter case is especially true for people from Asian diaspora. In the community where dating is for heathens and marriage is the purest ritual, many people directly resort to matrimonial than trying the uncertain dating.

Matrimonial websites for matchmaking are now on the rise. Matrimonial business is not just about fulfilling cultural rituals, nor the matrimonial industry is a segment with no returns on investment.
Revenue in the Matchmaking segment is projected to reach US$3,103m in 2021, so there's clearly money to be made in niche segments of matrimony.
The fact that you've come here to find out themes for matrimonial websites means you know the scope of matrimonial business for matchmaking, and we don't need to tell you anything.
Like the nature of marriage, themes are for long-term. That's why you need to choose theme wisely.
Want to try out your inner matchmaker in the online world? Searched for the matrimonial themes in WordPress but could not find anything?
You are in the right place.
What are the best matrimonial themes in WordPress?
There is a scarcity of matrimonial themes for matchmaking in the market. It's no surprise considering how scarce quality matrimonial scripts themselves are.
There are not a lot of choices in matrimonial themes in WordPress either. Many of the existing matrimonial themes are not up to proper standards. They are buggy, have poor design, and have little premium features.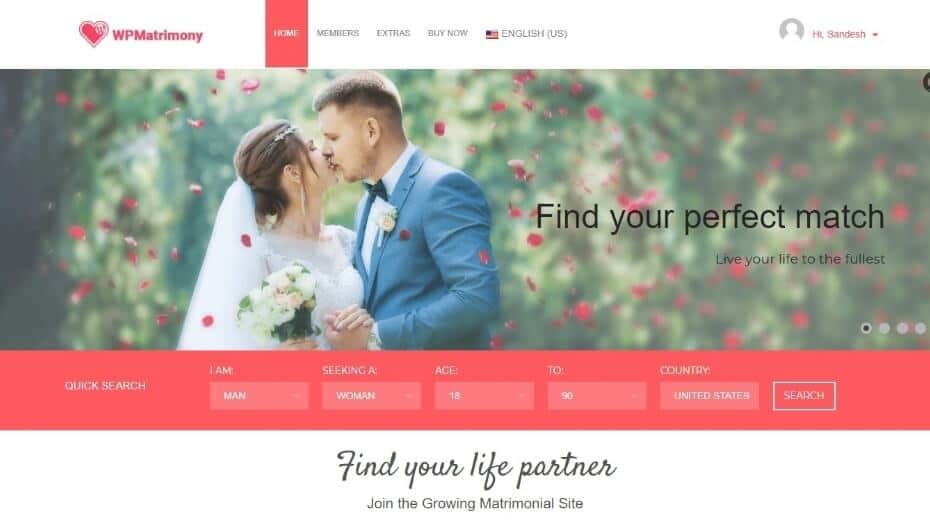 WP Matrimony Theme is made to create matrimonial websites. So, if you wish to start matrimonial website without major customization, choose this theme.
Username: userdemo
Password: password
Your other option would be to use WordPress dating themes, and customize it to a matrimonial website. There are lots of standard dating themes in the market for WordPress like our WP Dating themes, Sweet Date, Premium Press, and many others.
WordPress dating themes are fully-customizable, so you can easily use them for your matrimonial website requirements.
Many of our customers have easily customized our dating themes to meet matrimonial needs. For a starter, you can simply change your logo, color combination to your needs, add personalized questions for registration, change settings to manually approve the new users, and forced profile photo upload, and you are ready to run your matrimonial website.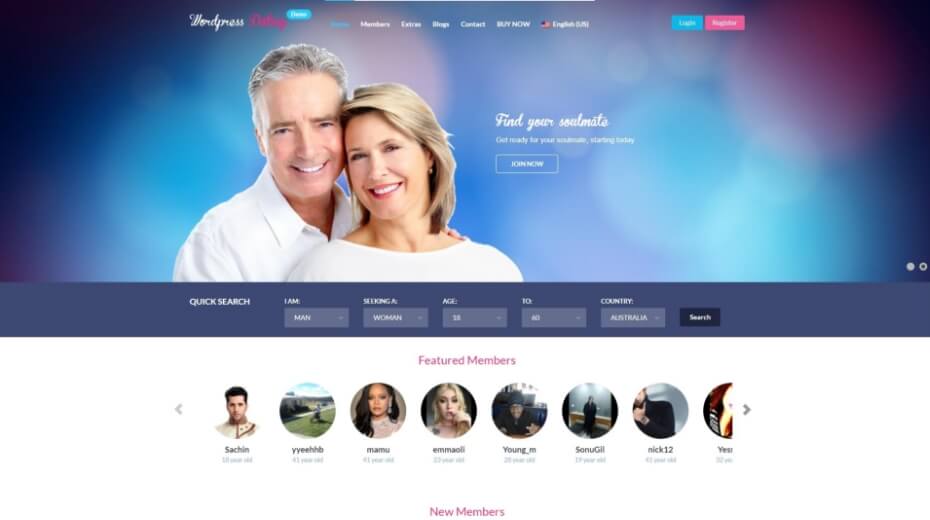 WP dating theme is the complete front-end solution that helps you to create a fully-functional dating site. Its appealing and informative design helps you to create the best and attractive dating sites in the market.
Users love this theme because of its simple and minimalistic design, which can be customized to as the user's own unique imagination to meet the needs of any matrimonial website.
Username: userdemo
Password: password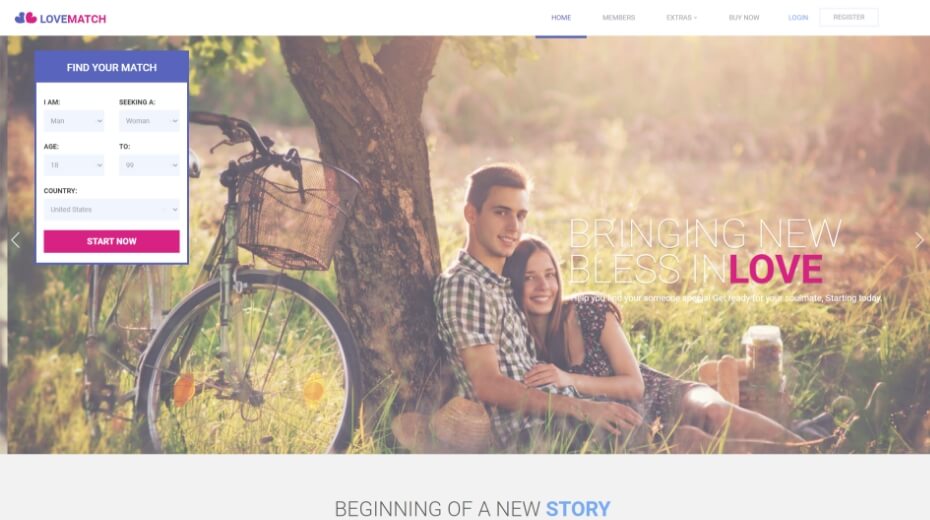 LoveMatch is the perfect dating theme for any WordPress-based site with the flexibility of adding numerous widgets that you can use to personalize as per your needs.
LoveMatch theme is purely created to enhance and upgrade your dating site performance and appearance. By using our superior and informative design, it will help the user to blend in with your dating site easily.
Username: userdemo
Password: password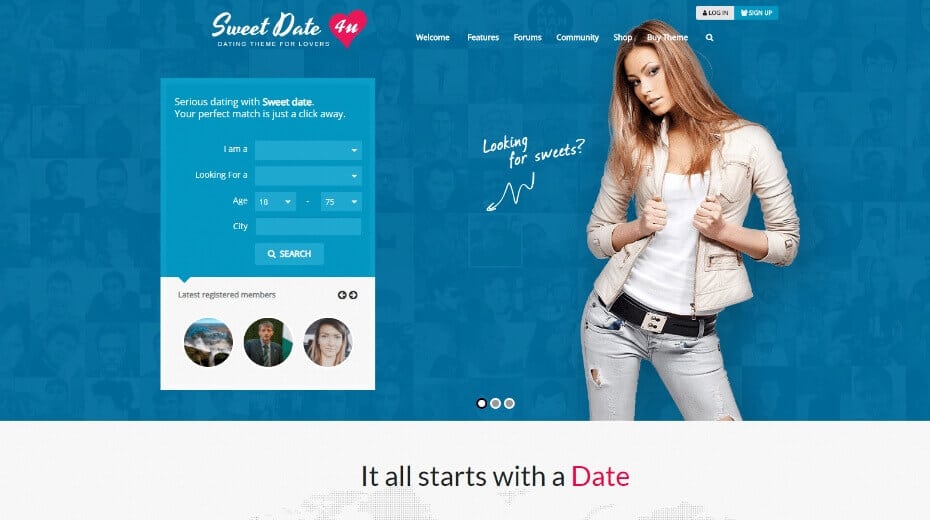 Sweet Date is a WordPress theme by Seventh Queen primarily developed for dating or community websites. Sweet Date provides 3 design options for the theme- Slider, Wide, and Car-Sharing demo.
To use it for the dating website, Buddypress plugin has to be installed. Although primarily built for dating websites, it can be customized to start a matrimonial website for matchmaking websites.
You can provide different content access based on the membership levels with the Sweet Date's Paid Memberships Pro plugin. It is also WooCommerce compatible. Users can register with Facebook login, and browse serially through different user profiles from a user profile page with Quick profile Navigation button on the top-right screen.
PremiumPress dating theme is another big name in the WordPress theme industry developed by PremiumPress Limited. It is an app theme, which means it's got in-built functionality and features within itself.
Customers can choose from 12 premium dating themes.
Dating website owners can use drag and drop builder to create pages. Users can upload images, videos and add youtube videos.
Like with WP Dating themes, it also has near me features, and advanced search to find the interests inside the specific distance perimeter and find the right match.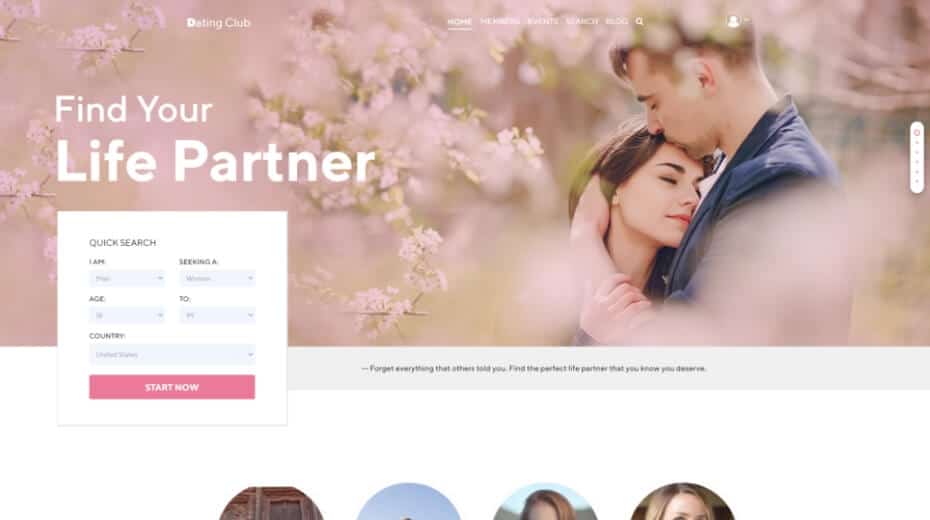 Dating-club theme is our latest premium theme to be added to our impressive array of WordPress Themes. Dating Club theme gets rid of all the clutter and makes it easy to connect with other members.
Dating-Club theme is built with a design that is compatible with Woocommerce plugin, and Event Management Plugin.
Username: userdemo
Password: password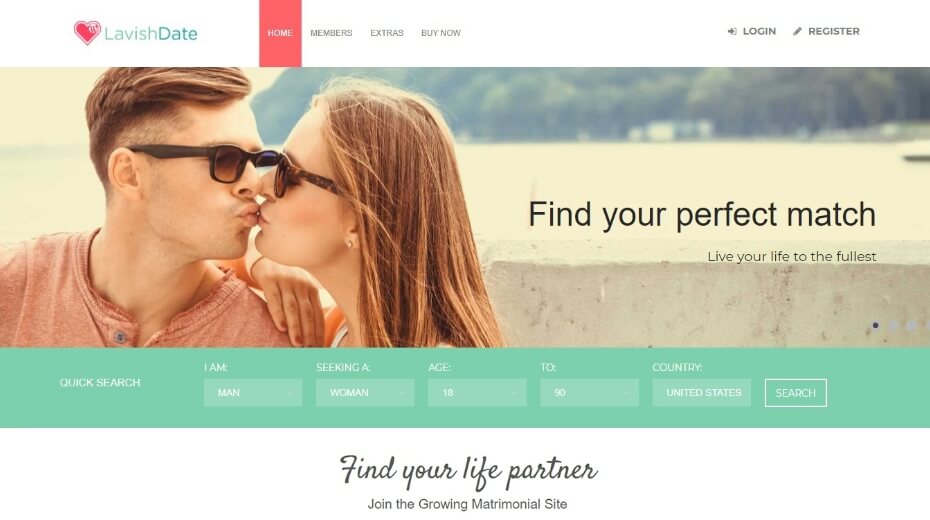 Lavish Date has a beautiful user interface with auto-sliding banners. Along with the powerful features, your users will get an experience they're unlikely to get anywhere else. Enhanced visual appeal and usability of Lavish Date means your dating users will instantly get hooked to your dating website.
Username: userdemo
Password: password
Many dating enthusiasts have used WP Dating plugin to start their matrimonial matchmaking business.
Check out these matrimonial websites made with WP Dating plugin.
Ummshaadi | Your Destiny Marriage | Sayoojyam | Ediga Marriage Solutions
Why are WordPress themes best for matrimonial websites?
Easy customization

Easy branding

Premium features

Regular updates

Unlimited options

Adept and quality developers
WordPress themes are easily customizable and a lot of WordPress developers are available, using WordPress themes is like a hot knife through butter.
WordPress themes are much more preferred than traditional manual programming in terms of looks and user experience. You get much better control of your matrimonial website both before and after publishing your website because of the easy interface that WordPress offers. As your customers grow, you can invest in making your matchmaking website even more advanced by adding better features.
You do not even need to be able to write a single line of code or hire an expensive programmer to make small changes. This not only helps you save time but also the cost that developers charge, which is hardly affordable by most entrepreneurs just starting out in the industry.
Features of WP Dating themes for matrimonial websites
For visitors
Easy registration process

Success stories

Search unlimited profiles

Verified profile
For members
Phone number verification

Send interests to the members

Anti-spamming and anti-fraud, and safe space for members

Protect photo

Perfect Matches according to the interests and compatibility

Instant chat and share media directly.

Near me
For Admin
Advanced compatibility matching algorithm to match perfect person

Admin can edit any questions, approve the profiles, design the page layout and color combination.
WP Dating's premium themes are the best to choose for matrimonial websites because nothing else comes close to the beautiful user interface/ experience, quality, and features of our themes, and plugin.
Not only do we provide you with quality themes with powerful plugins, but you can also get your own native mobile app for android and PWA for iOS devices.
Go get your theme and create your matrimonial website in WordPress
Why choose WP Dating to start a matrimonial online business?
If you are an enthusiast who wants to start matrimonial websites with minimal coding knowledge and investment but have the vision and efforts to back that up, there's no better place than WP Dating Plugin, and there's no stopping you from getting your success in matrimonial business.
WP Dating plugin can be easily used to start a matrimonial website. WP Dating plugin perfectly suits your matrimonial needs. The high-end algorithm of WP Dating finds the perfect match for singles, and you can do everything with WP Dating that a normal matrimonial website does.
Add a beautiful and quality matrimonial theme, you'll be running your own matrimonial website in no time.